Cove Yoga Heater
Price ranging from $395.00 – $695.00
Excellent for offices and yoga studios
Heater reaches its maximum temperature of 340F/171C
Stock colors are white and beige
Brown or black colors available in 1,000 watts and 1,500-watt sizes
C UL US (Approved for the US and Canada)
How much heat do I need?
Unobtrusive Heat
The sleek design of our cove heaters allows it to blend in to any space. Unlike many of our other heaters, our cove heater can mount on the wall, making it ideal for spaces with high ceilings.
Price Range: $395-$740 (USD) Per Heater
Sizes: 585, 825, 1000, and 1500 watts
Voltage: 120, 208, 240 or 277
Mounting Options: Wall or ceiling
Color Options: White, beige, black, and brown
Warranty: 10-year warranty
The panel is sleek, silent and takes up no usable space
Requires Zero Maintenance
Made in the USA
C UL US (Approved for US and Canada)
Seamless Integration
Part of what makes these panels so popular for hot yoga studios is how they seamlessly integrate into any room. The panels mount on the wall or ceiling, take up no usable space, make no noise and provide sun-like-warmth to the students in the room. Mounting the panels on the wall offsets the effect of having a high ceiling, making these panels ideal for rooms with high or vaulted ceilings. There is no harsh air blowing on students' faces and everyone will love the heat these produce.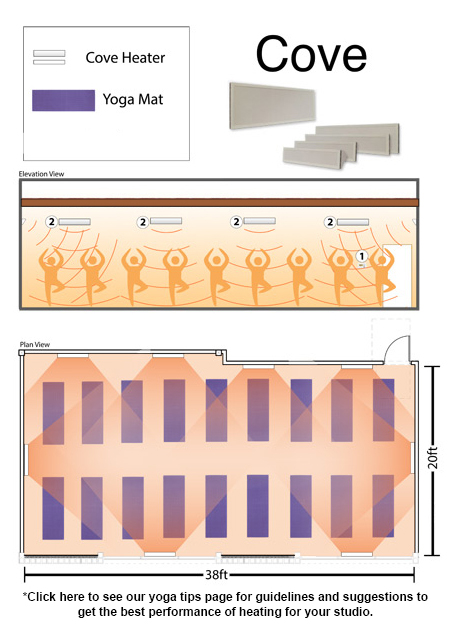 Cove Heater Specifications:
NOTE: Specifications shown at 240 volt, also available at 120, 208, and 277 volts.
| | | | |
| --- | --- | --- | --- |
| Size | Watts | Amps | BTUs |
| 33x7x1.125″ | 585 | 2.4 | 2,000 |
| 46x7x1.125″ | 825 | 3.4 | 2,815 |
| 46x10x1.125″ | 1,000 | 4.2 | 3,413 |
| 46x15x1.125″ | 1,500 | 6.3 | 5,120 |
Cove Product Reviews
---
Put these in our second yoga studio location and it got us up to 110 without HVAC heat. Wow!
---
The 200 sq ft studio, with slab beneath a carpet, used to be the coldest room in the house; the radiant heat of the cove heater works wonders, making it the warmest room now. I find keeping it at a low temperature keeps the room comfortable, and adjusting changes the ambience within minutes.
---
---
We put two of these in our three season room and they work great (actually, they work so well it is now a four season room). They create a very cozy "warm" that feels almost like sitting in sunshine.